THE BIGELOW HOUSE MUSEUM - OLYMPIA, WA
---
original page design by Don Bigelow
Built by Daniel Richardson7 BIGELOW (Jotham 6, Joel 5, Jotham 4, John 3, Samuel 2, John 1)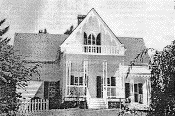 High on a bluff above Budd Inlet stands the oldest house in Olympia, the historic Bigelow House. The white clapboard house, built in the "Carpenter Gothic" style popular in rural America during the mid-1800's, is also one of the oldest frame buildings in the state of Washington, and perhaps the oldest residence continuously inhabited by the same family in the Northwest.

A Bigelow has lived in the house since it was built in 1854.

"There is not another house in Washington like this," said Shanna Stevenson, Thurston County historic preservation officer. "Washington's history rests in this house."

What exalts the house is the great gentleman who built it, the family that preserved it and a vivid woman who celebrates it. That would be Mary Ann Bigelow, who is 83 and has lived in the house since the October day in 1935 when she married Daniel S. Bigelow, grandson of the original owner. "This house is about preserving time," Mary Ann Bigelow said.

"The Bigelows," Stevenson said, "have been stewards against the ravages of time." Time was when Washington was Oregon Territory and Olympia was called Port of Entry for Puget Sound. Then it was called Smithfield. Then it became the state capital. Since 1854, the Bigelow family has called Olympia home.

(15197.66) Daniel Richardson 7 Bigelow son of Jotham 6 ( Joel 5, Jotham 4, John 3, Samuel 2, John 1 ) and Celinda (Bullock) Bigelow, was born 21 March 1824 in Belleville, Jefferson County, NY. He was educated as a lawyer and studied under Daniel Webster at Harvard Law School, graduating in 1849. Suffering from a serious eye disease, Daniel feared he would go blind before he had a chance to see the western territories. He appears in the state of Wisconsin on the 1850 census. By 1851 he had joined a wagon-train and headed west on the Oregon Trail to Portland. That year in November he sailed up the coast in the schooner Exact to Puget Sound, establishing a law office at Olympia, then called Smithfield. Although he never lost his sight, he was always plagued by eye problems.

<>On June 18, 1854, he married Ann Elizabeth White, the first school teacher in the area. Her "schoolroom" was in the Packwood family home near the Nisqually River. Ann was born 3 November 1836 in Illinois and had arrived in Olympia with her family at the age of 15 in late 1851. Daniel and Ann first lived in the tiny cabin on Daniel's land claim. This cabin, substantially altered, can still be seen on the site. Soon after, they constructed the 1- room, two-story home now known as the Bigelow House.

Daniel Bigelow was to become a leading citizen not just of Olympia but of the entire Pacific Northwest. In 1852, he was elected Treasurer of the newly created county of Thurston. During the summer of 1853, he was one of three commissioners who completely rewrote the laws of Oregon Territory at Salem. Their recommendations were accepted by the Legislative Assembly and enacted into law, creating the new territory of Washington This reflects the prestige Bigelow had already achieved by 1853 in legal and legislative affairs.

Bigelow was elected in 1854 as a member of the upper house of the first legislature of Washington Territory. He served several additional terms and outlived all other members of that first legislature. He was also keenly interested in education. He was elected Superintendent of the Olympia School in November 1853, and was President of the Board of Trustees of Puget Sound Weslayan Institute, the forerunner of the University of Puget Sound.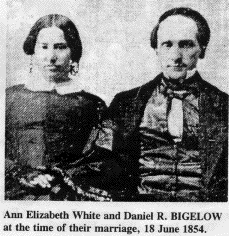 Bigelow, loyal husband and father of nine, was Thurston County prosecuting attorney and probate judge and territorial auditor and Olympia postmaster and city councilman and superintendent of schools. All at once. Long before anyone considered the notion of quality time.
He supported women's rights when they were called suffrage, minority rights when they were called abolition, and liquor laws when they were called temperance.
"He was," Mary Ann Bigelow said, "an intellectual. He was always referred to as a cultured gentleman. In those days, people made an effort to be interesting."
Daniel Bigelow's interest was writing. Coming west on the Oregon Trail, he continued a journal started in 1848 and concluded when he ran out of paper - but not thoughts - in 1854. He wrote in a prim hand, using a quill he dipped into an ink bottle every few words.
The journal is lovingly preserved in the Bigelow home's library. It describes events ranging from attending the funeral of John Quincy Adams, sixth president, to slogging west along the Oregon Trail. "There's not another document in Washington like it," Stevenson said.
When Bigelow died 15 September 1905 at Olympia, nobody could remember one saucy story about him. A gentleman to the end. When Ann Elizabeth Bigelow died 8 February 1926, her family covered her coffin with a blanket of violets, for the orchard was blooming purple.
Violets still erupt every spring at the Bigelow place. Daniel R. and Ann Elizabeth, along with most of their children, are buried in Forest Memorial Gardens, Olympia, WA. In 1966, Bigelow's grandson and Mary Ann's husband, Daniel S. Bigelow, investigated the possibility of saving the place by registering its historic merit. But there was no register, and not much thought of preservation in the rush to urban renewal.
Daniel S. Bigelow called upon the desk of his former classmate at the University of Washington Law School, Henry Jackson, who was a United States Senator. Jackson pioneered the National Historic Preservation Act to save old buildings from developers and to establish the National Register of Historic Places. The Bigelow House, surrounded by more than an acre of the family's original land claim and located at 918 Glass Avenue east of downtown Olympia, proudly made the register in 1975.
In 1994, Daniel S. and Mary Ann Bigelow sold the historic house to the private, non-profit Bigelow House Preservation Association (BHPA) for the purpose of preserving it permanently as a museum. They retain a life estate in the property and continue to live in the house even while the first floor is open to the public. In 1995, with the help of a grant from the State of Washington, BHPA restored the Bigelow House as closely as possible to the way it appeared in the earliest known photograph of the home, taken around 1865. Extreme care was given to recreate lost architectural features, from the millwork on the front porches to the twin chimney stacks. Inside, ceilings were returned to their original 10-foot height. Reproductions of authentic Victorian wallpaper were chosen to approximate the wall- coverings used in the house more than a century ago. The Bigelow House offers a tantalizing glimpse of middle-class life in the Pacific Northwest before Washington became a state.
When visitors tour the house, Mary Ann Bigelow likes to read aloud a passage from a standing desk on Daniel R. Bigelow striving to give women voting rights: "I can hardly see why all who are governed by law should not have a voice in making it."

Mary Ann shows off the Steinway square grand piano that cost $850 new in 1870 and was shipped to Olympia around Cape Horn, the Ansonia Brass and Copper Co. clock used in Ann (White) Bigelow's classroom in one of Washington's first schools, and innumerable other historic treasures. Mary Ann herself is the author of Where The Potholes Are, a book on Olympia's past.
Daniel R.7 and Ann Elizabeth (WHITE) BIGELOW had 9 children, all born at Olympia:
---
BFN

---

Name

---

Information

---

15197.661+
Tirzah
b 21 Sep 1855; d 14 Dec 1927; m 19 Aug 1877 Miller G. ROYAL; 3 children.
15197.662+
Evaline
b 21 Mar 1858; d 2 Dec 1959; m 17 Aug. 1882 William P. BONNEY; 4 children
15197.663
Ruth
b 3 Jul. 1860; d 16 May 1950; m 12 Feb. 1910 Albert D. WRIGHT; no children.
15197.664
William Ellis
b I I Aug. 1862; d 4 Apr. 1898; m 24 Nov. 1887 Jennie OSBORNE. Anson, b 24 Jan 1869; d 29 Jan 1869
15197.665
Anson
b. 24 Jan 1869; d 29 Jan 1869
15197.666
Jotham Duncan
b 5 Apr. 1871; d 6 Sep. 1945; m 6 Dec. 1893 Sarah Caroline MARKHAM.
15197.667+
Richardson Lee
b 25 Jul. 1873; d 21 Mar 1967; m 18 Jan 1900 Belle Lucretia KNOX; 3 children.
15197.668
Margaret Elizabeth
b 5 Jan 1878; d 31 Mar 1927; unmarried
15197.669+
George Royal
b 7 Oct. 1881; d 19 Feb. 1961; m 29 Jun. 1910 Edith May SYLVESTER; 5 children. [Father to the present Bigelow House owner, Daniel S. Bigelow.]
---
This story was drawn from previous material in Forge, as well as a recent article by Bart Ripp in The News Tribune, Tacoma WA on Monday, March 28, 1994. We appreciate permission to reprint excerpts from his article.
The Editor is indebted to Mary Ann and Daniel S. Bigelow for providing the photographs which accompany the story. Clippings submitted by: Janet Cole Lordahl, Tacoma WA and Rosemary Bigelow, San Francisco.
Related Forge articles:
April 1980, July 1980, April 1987.
For excerpts from Daniel Richardson 7 Bigelow's diary, see January through October 1982, April 1989.
Tax-deductible donations in support of The Bigelow House Museum may be made to:
BHPA,
918 Glass Avenue NE,
Olympia WA, 98506.
Note:
Thank you for including information about the Bigelow House Preservation Association on your webpage http://bigelowsociety.com/BigelowMuseum.html. We are in the process of expanding our own web page for the museum to give visitors additional information.
Would you please add the following contact information to your page?
Museum phone number - (360) 753-1215
Thank you for your assistance in this matter!
Sincerely,
---
Modified - 01/27/2014
(c) Copyright 2014 Bigelow Society, Inc. All rights reserved.
Rod Bigelow - Director
rodbigelow@netzero.net
---
Rod Bigelow (Roger Jon12 BIGELOW)
Box 13 Chazy Lake
Dannemora, N.Y. 12929

< rodbigelow@netzero.net >