The History Page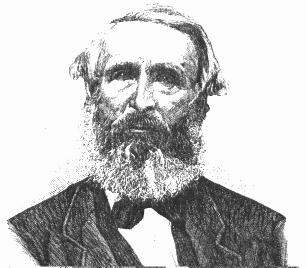 This is a picture of Lewis Lyon, one of the early settlers of Lyon Mt., Chazy Lake, and Saranac area. The family name was the source of naming Lyon Mt.(not for any mountain lions).
---
..... The more I got into genealogy the more I got into the history of the people and their times. So I would like to have this page to cover the history of different areas, starting with ones I am most familiar with first. I recently visited (1997) The Adirondack Museum in Blue Mountain Lake, NY. This place is really a must see spot for you city dwellers who would like to get an overall view of the Adirondacks in one sitting or walking. It is far more beautiful than a trip to Punta Cana Dominican Republic and more relaxing than going to one of the many Cancun resorts available. I took some photographs of photographs and these will provide some illustration to my historical writings. Another incident that sucked me into history was the Margaret Reed's Diary listed on The Bigelow Society Page. She described events of my ancestors in Schuyler Falls, NY as well as Dannemora ,Chazy Lake, and world events. Another is the research I have done on tombstones of my ancestors has revealed history of other families as the case of the Colchester Cemeteries . So I will start out with the history of Chazy Lake and its neighbors Dannemora and Lyon Mountain . I grew up in Dannemora and know some interesting stories of the prison there, etc. Lyon Mountain is a mining town that has interesting history and facts attached to it. There is more research about the Schuyler Falls and Keeseville, NY area. This is covered by an article about the UNION, a settlement by Quakers near both villages. Keeseville is the home of my mother Ruth and maternal grandmother Beatrice Marie ( LESPERANCE ) McGEE, named Gagy by me when I was was a baby. This nickname has stuck and my whole family has used it ever since ( Gagy turned 98 in Oct 1999 (she died peacefully in March 2000 )).
More history of Keeseville can be found on R. Prescott & son Pages.......................ROD.....11/21/2000
Recent (1998) historical study was about the small Hamlet of BIGELOW, located near Richville and Gouverneur, NY.


The start of a history of Saranac, with The Redford Glass Works.


A personal history of The North Family, with The Memories of Luella R. North.


The start of a history of Peru, NY, with History of Peru ....
Northern New York American-Canadian Genealogical Association:
site

The society has a new URL for its site which is

www.nnyacgs.com

. Our main concentration is on Clinton County.

We're working on creating a library of 5-generation from the local area to which you're invited to add your own


Also in 1997 I did some research in Geneseo, NY in the Finger Lakes region. Links in that area can be found on the page for Epaphroditus BIGELOW ( Don't let the name intimidate you!)

In 1999, I started what I call The Bigelow Papers, which covers the history of the Bigelow Family and related families in Northern NY. It will also cover the origin of these families before they moved to Northern NY, especially Clinton County. See link below:

In 1999, I completed more articles concerning Lyon Mountain and nearby areas. One article deals with an Oral History of Levi White, who worked in the mines and other northcountry places I know. He made sketches of the mine operation as it was in 1940. Look to those links for the latest info I've compiled from articles and personal tours of present state of Lyon Mt. and mines. Also in 1999, I started posting articles from a publication called "Mining for Souls". Find these articles on Souls 1a, and St. Bernard's 1...................................ROD 11/18/99.
John Miles of Chateaugay Lake has a great history page on Chateaugay and Chateaugay Lake, Merrill, Brainardsville, etc. Find these links at: http://www.angelfire.com/mo2/hunsmire/chateaugaylinks.html

Go to link below to add information to genexchange:
http://www.genexchange.com/downloads.cfm

Anyone interested in contacting the various historians in Clinton County can check this site for a good listing:
http://www.genexchange.com/HistorianSearchco.cfm?state=ny&county=clinton

Clinton co., NY Civil War soldiers who died bef. June 1865: http://members.aol.com/jjelbrec/cl-died.htm
Sources:
Adirondack Museum photos, Blue Mountain Lake, NY;
History of Clinton County, New York;
There are some great sources of information on local history available on the internet,
I will list a few:
Feinberg Library Special Collection: http://www.plattsburgh.edu/acadvp/libinfo/library/speccoll.html
and Polaris, a new search engine: http://www.plattsburgh.edu/acadvp/libinfo/newspaper_search/search.htm
Or: http://www.plattsburgh.edu/polaris.htm

1798 Tax assessment for Clinton co.;incomplete but interesting: http://www.rootsweb.com/~nyclinto/1798tax.html
From Peru: Ephraim Bigalow (heirs of Zacheous Newcomb, owners), 72 acres near the river Sable joining David Gorges. $312. See: /rod/ephrai6a.htm

From Peru: John Haff, 325 acres, on Rogers road, joining William Keese. One log house ($25). One frame barrack barn 34 x 30. $2104.

Index of Pleasant Lake Cemetery, Brasie Corners, Macomb NY
http://members.aol.com/stlawgen/macomb/plcem/PL_index.html

1870 Census of Town of Lisbon, St Lawrence County, NY
http://members.aol.com/stlawgen/lisbon/394A.HTM

1870 Census Transcript - Macomb, St. Lawrence County, New York:
http://genweb.net/~raven/census/1870_macomb.htm

You can search NY counties for forums at:
http://genforum.familytreemaker.com/ny/counties.html

Clinton at: http://genforum.genealogy.com/ny/clinton/
Franklin at: http://genforum.genealogy.com/ny/franklin/
Essex at: http://genforum.genealogy.com/ny/essex/
Livingston at: http://genforum.genealogy.com/ny/livingston/
St. Lawr at: http://genforum.genealogy.com/ny/saintlawrence/
Also try the expanded Colonial New England Database at:
http://www.netcolony.com/life/estevanjc/stevejc.htm

more links and notes on Page 2.

---
Rod Bigelow
Box 13 Chazy Lake
Dannemora, N.Y. 12929

< rodbigelow@netzero.net >