The History of Lyon Mountain, N. Y.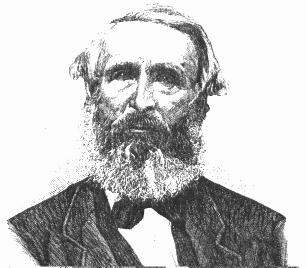 This is a portrait of Lewis Lyon, son of Nathaniel Lyon,
after whom the mountain and town were named.
---
..... This is a sketch of a small little town in the Adirondacks known as Lyon Mountain. When I was young, it was said that mountain lions had once roamed the mountain near Chazy Lake known as Lyon Mountain. As I grew older I learned that it was named after Nathaniel Lyon, who settled in Saranac, Clinton co, NY, which is about 5-10 miles south of the base of Lyon Mountain. His son (pictured above) Lewis Lyon was born 18 Sept 1814, in Royalton, VT. Nathaniel Lyon settled in Saranac in 1803 or 1804 and was one of the first settlers in that part of the county. He was a relative of Gen. Nathaniel Lyon, who was killed at the battle of Wilson's Creek, MO, in August 1861.



New Books available..... "Lyon Mountain: The Tragedy of a Mining Town"


You've done an incredible job with your site, and with spreading the word on North Country history. Many of the oldtimers that I've become friends with in Lyon Mountain don't have computers, so I have to tell them about it or print samples to show them. They are really proud of their heritage, so they love hearing that their hometown is known on the internet. We've been deeply involved in the village for some time now. Along with publishing our two Lyon Mountain books, we added a site dedicated to the village of Lyon Mountain, and so far it has raised well over $1000 in donations towards their Mining and Railroad Museum, which should be opening sometime in 2006.

We had previously provided a link to your site among our links on the Lyon Mountain pages, and if you're at all interested, we'd be pleased if you decided to add us to your links. Our main site is

www.bloatedtoe.com

. My partner is in the process of adding Whitehall, N.Y. pages, and possibly increasing our Lyon Mountain pages.

We handled the publishing of Whitehall's history book, which is officially being launched on November 10, and we are beginning to offer our publishing services to others via a unique partnering arrangement.

Thanks,

Larry Gooley <goolyman@charter.net>

<>Go to History of the Chateaugay Ore and Iron Company
Go to Page 2 of The History of Lyon Mountain.
Go to Bulletin Board for Lyon Mountain.
Go to Page 3 of The History of Lyon Mountain.
Go to Lyon Mountain: The Town that refused to die. Lots of pictures
Go to Mining History for The History of Mining in the North Country.
Go to Page 5 of The History of Lyon Mountain. (for article on Lyon Mt. and Mineville)
Levi White of Clintonville has provided an oral history of his life including his years working in the mines of Lyon Mt.
He also provided sketches from memory of the operation at the Lyon Mt. mine ca 1940. The sketches were produced in Jan 1992 with the assistance of Gordon Pollard, Professor of Anthropology, PSUC. Thanks to The Feinberg Library Special Collections for this valuable history. See: Lyon Mt. Sketch page 1 for this information.
In 1999, I completed more articles concerning Lyon Mountain and nearby areas. One article deals with an Oral History of Levi White, who worked in the mines and other northcountry places I know. He made sketches of the mine operation as it was in 1940. Look to those links for the latest info I've compiled from articles and personal tours of present state of Lyon Mt. and mines.Also in 1999, I started posting articles from a publication called "Mining for Souls". Find these articles on Souls 1, and St. Bernard's 1...................................ROD 11/18/99.
---
Our Town

The hamlet of Lyon Mountain, located in the scenic Adirondacks, is a rural, insular community. The residents are self-sufficient, as there is no local government. The community was founded around 1868 and, until 1967, was a company owned community, which profoundly affected the people and their initiative. The community is in the process of emerging from this protective custody and realizing that any change for the future is up to them. This takes time and is a difficult process.
There are many wonderful ethnic attitudes still prevelant in the French, Italian and Polish hamlet. A tragedy brings people together and a covered dish meal at the American Legion brings out a real smorgasbord. This is a community tied to its past, but also looking forward to the future and what must be done to make that future a success.
It is with these wonderful memories of all that has been that this brief history is written to chronical our town and its beginnings. This is a contribution to the bicentennial year of Clinton County, and to all the people, past and present, of the Hamlet of Lyon Mountain........Helena T. Penalis June, 1988

The Hamlet of Lyon Mountain

The "Hamlets of the Adirondacks" describes Lyon Mountain as the "the perfect example of an industry-deserted mining town. Workers' housing and neglected mines present dramactic images in a community where people are experiencing fewer services on a minimal economic base."
The "Economic Development in Northern New York" report states: "Frequent reference is made to what is viewed as a North Country syndrome.....negative attitude.' 'There is a severe shortage of cultural resources as well as recreational facilities." There is a lack of diversity in the life of the North Country."
This may be the image presented to the statistician compiling flgures for surveys but it is not what is seen by senior residents who remember when things were different. They see the hamlet as a small spot of scenic delight in the foothills of the Adirondacks with clean air and spring water. They also remember when it was home to one of the largest employers in the county and had a population of approximately 4,000 residents. Let's go back in time and take a fast trip forward through the history of Lyon Mountain.

The Beginning

The first known record of the town (or its future site) is in 1823 when ore, practically phosphorus-free, was discovered by a trapper named George Collins. Nothing more was done until 1868 when Messrs.Foote, Weed, Meade and Waldo made a contract with Mr. Edmund Rogers, who owned the tract of land, to purchase four-fifths of his property. Much litigation followed between the four gentlemen and Mr. Rogers and others and continued until a Mr. Williams and Mr. Weed became sole owners of the property. These two gentlemen formed a partnership which became known as the Chateaugay Ore and Iron Companies and, in the fall of 1873, the work of developing the land began in earnest.
Log Cabin against Sand Piles
At this time there was only a small clearing in the dense forest, with a few log shanties in the area now known as Mine Street and West Mine Street. The area needed a name, so it was named Lyon Mountain after the resident in the area--Nathaniel Lyon--who came here in the winter of 1803 from Vermont and settled at the base of Lyon Mountain. He cleared a large farm in the area and lived there until he died around 1850. The St. Bernard's Church records state that the hamlet was first named Rogersfield after Edmund Rogers but, sometime in the l880's it was renamed Lyon Mountain.
In the following year, as the property expanded, more and more miners were brought in, until number reached one hundred and fifty. This meant that new houses had to be built, as there were only 40 houses, a small wooden church and a school.

Community Services

In 1879 a post office was established in Lyon Mountain as part of the general store. Now the little community was officially on the map. A splendid two-story store was built, having a basement and first floor for groceries and office. An upper floor held an assortment of dry and fancy goods and fashion apparel, along with an apartment for the manager (Mr. J. Obrist).
A railroad was needed to develop the rich resources of this property. In May 1879 the Chateaugay Railroad Company was organized and, on December 1879, the first regular train ran over the entire line and the first train of ore was shipped to Plattsburgh.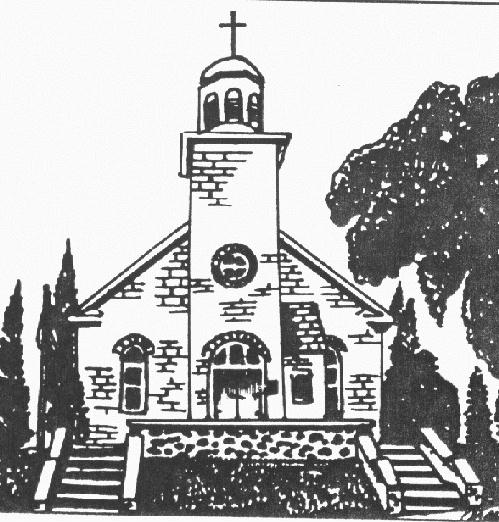 St Bernard's Church

By 1883 Lyon Mountain had grown from a few shacks in the wilderness to a thriving community of over 300 miners and 700 residents, the busiest spot in Clinton County. During the 1880's the first Catholic Church of St. Bernard's was built, along with a rectory and barn to stable the horses of the parishioners during Mass. In 1901 the wooden church burned to the ground and the present church was built. There have been many renovations to the interiors and exteriors, but both the church and rectory have remained intact.
At this time the first Methodist Church was built in the community on Depot Hill. This was on land deeded to the church by the Rogers family. The church remained at that location until 1952 when the present Memorial Methodist Church was built.
Religion was a dominant force in this ethnic community with much of the social life centering around church suppers and church bazaars. The community was approximately 90 percent Catholic and 10 percent Methodist, which continues today. Yet, the cooperation and ecumenism that has always prevailed between these two groups could be a model for world unity. Although, the years have brought the inevitable changes in social life, the community remains respectful of religion.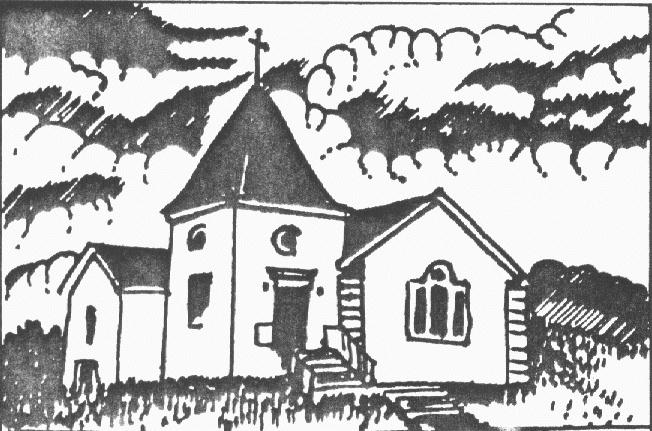 Memorial Methodist Church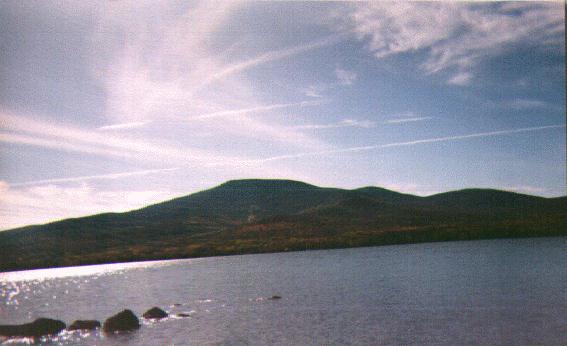 This is a view of Lyon Mountain taken from the east shore of Chazy Lake. It is said that the mine shafts of the old Republic Steel Co. ran under the mountain and even Chazy Lake. In the 50's you could hear the blasting in the mine and it appeared to be very close.
This narrative continues on Page 2 of The History of Lyon Mountain.
---
Sources:
Adirondack Museum photos, Blue Mountain Lake, NY;
Hurd; History of Clinton County, New York;

---
Rod Bigelow (Roger Jon12 BIGELOW)
Box 13 Chazy Lake
Dannemora, NY 12929

rodbigelow@netzero.net